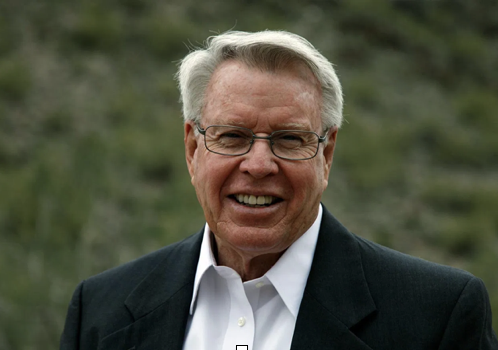 William Edward Roberts, Jr.
1942 – 2021
William Edward Roberts, Jr. (Bill) of Castle Pines, Colorado died on April 7, 2021 in Scottsdale, Arizona as the result of injuries sustained in a bike accident on Easter Sunday. He is survived by his wife Orveta Joy and his two sons: William Todd Roberts and his wife, Lauren, of Sheffield, England, and Korbett Lane Roberts and his wife, Sarah, of Waco, Texas; as well as seven grandchildren: Weslie Ann, Darby Elizabeth, William Caleb, Liam Skyler, Benjamin Lane, Andrew Emery, and Nate Elliot.
Bill was born in Mobile, Alabama on January 14, 1942 to William Edward and Katherine Seaton Roberts, but he spent his formative years in Quitman, Georgia. In addition to being a good student, he loved sports — competing in basketball, baseball, tennis, and track and field. In his teen years, he worked for the local newspaper, The Quitman Free Press. He was also active in the First Baptist Church of Quitman – where his mother worked as the church secretary until a few years before her passing at age 104. Bill shared his mother's positive words, warm smile, and hard-working spirit. They also shared an abiding faith in Jesus Christ as Lord and Savior. Bill's family holds dear the well-worn, underlined pages of his daily devotionals.
After graduating from Brooks County High School in 1960, Bill went on to study mathematics and physics at Valdosta State University. Upon his graduation in 1964, Bill entered the Air Force to fulfill his dream of becoming a fighter pilot. Bill recalled that the desire to fly began as a young boy, when he used to sit with his father near the airbase where he worked, watching planes taking off and landing. Still a prodigious student, Bill was first in his flight class both to solo and fly the T-38 advanced trainer. He flew 130 combat missions over North and South Vietnam in the F-4 Phantom. He was credited with shooting down two enemy aircraft and was decorated with the Distinguished Flying Cross for "repeatedly and unhesitatingly engaging enemy aircraft in defense of friendly aircraft." The plane he flew in one of those engagements is now mounted at the entrance of Langley Air Force Base, Virginia as part of a display of USAF combat aircraft.
In 1970, after a 6-year stint in the Air Force, Bill moved to Denver and began his professional career as a agent for Northwestern Mutual Life and quickly distinguished himself as one of the leading agents in Colorado. Then in 1977, Bill cofounded Benefit Concepts Inc, later renamed AUCTORIS, where he served his clients with business succession planning for nearly 40 years. In 2018, Bill joined Erben Associates, and in 2020, he partnered with his son Korbett to launch a division at TCS Insurance focused on family business advising. Bill loved helping families. His work with them was far more than providing financial tools; he practiced values-based planning to help families clearly see the family mission and principles that built their legacy. Bill loved his work and when asked when he planned to retire, he would answer with a grin and say, "never".
Bill was also a lifelong learner and valued extensive professional education and the insights gained from sharing wisdom among peers. In addition to professional designations such as CLU, ChFC and Certified Advisor with the Institute for Preparing Heirs at Pepperdine University, Bill was a devoted member of many industry study groups. In fact, Bill described his first experience at the prestigious "Million Dollar Roundtable" industry meeting in 1971 as the "turning point in my career" from which he made a lifelong commitment to stay curious and bring new ideas to his practice. At the time of his death, he was an active member of his Vistage Group of CEO's and peers in Scottsdale, AZ as well as other study groups with colleagues from M Financial.
Bill was also a partner in the Aspen Family Business Group, a respected international resource for families in business. With his fellow members, Bill co-authored the book "Keys to Family Business Success". The book lays out a series of problems unique to family businesses with examples of real situations faced by family businesses, and practical solutions for family success generation after generation.
But all Bill's successes in the military and business world paled in comparison to his true love: his family. Not long before his death, when asked to name his proudest accomplishment, Bill recounted his 46-year marriage to the love of his life and best friend, Orveta Joy. Together, they traveled the world and were gracious hosts to many, but their greatest joy was simply being together. They also enjoyed a strong relationship with their two sons, Todd and Korbett. Bill was an especially supportive father, and spent countless hours cheering on his boys in their various sporting events. Later, Bill supported his boys as Todd built a church overseas and Korbett built a business alongside Bill. When remembering their father, both boys and their wives cherished his constant encouragement and how he always ended a telephone call with the words, "I love you". To his seven grandchildren, Bill was affectionately known as "Graddy" and took an active interest in their lives, encouraging their various interests and seizing every opportunity to take them for walks, bike rides, or snowball fights.
As a family, we thank God for giving us such a wonderful husband, father, father-in-law, and grandfather. While we will miss him dearly, our grief is tempered with the hope that we have through Jesus, that one day we will be reunited in our heavenly home.
In lieu of flowers, donations can be made in memory of Bill to the church his son Todd leads in Sheffield, England.
http://aminternational.thankyou4caring.org/ami/giving/sheffield